APPLE'S IDFA CHANGES HIGHLIGHT THE NEED FOR MARKETERS TO LEVERAGE ONLINE IDENTITY RESOLUTION.

With the release of a new software update, iOS 14, Apple is shaking up the mobile advertising world. Although many developers and mobile advertisers breathed a sigh of relief when they heard Apple was postponing new privacy restrictions until early 2021, there's still a lot of uncertainty regarding the impact these changes will have in the advertising world.
Earlier this year, Apple announced that developers and publishers would need to get permission from users before using Apple's proprietary mobile ad ID — better known as IDFAs. These mobile IDs are the key link many advertisers use to reach close to a billion iPhones. The ID then collects data that tracks how a user engages with apps and provides information to publishers in order to monetize their apps.
With Apple's strong commitment to prioritize user privacy, highlighted with the launch of privacy focused ads, we can expect future changes that will challenge advertisers that rely on siloed identifiers to reach their audiences.
KNOW YOUR CUSTOMERS NOW.
For over 20 years, blu has believed that one of the most important marketing precepts is to know your customers. In our early marketing days this was easy to accomplish. Like the rest of the industry, we were able to harness the power of direct marketing through direct mail. As the industry evolved and the digital ecosystem was made more available to advertisers, maintaining this direct link became more challenging.
Advertisers faced a huge obstacle to seamlessly connect fragmented data back to a single person.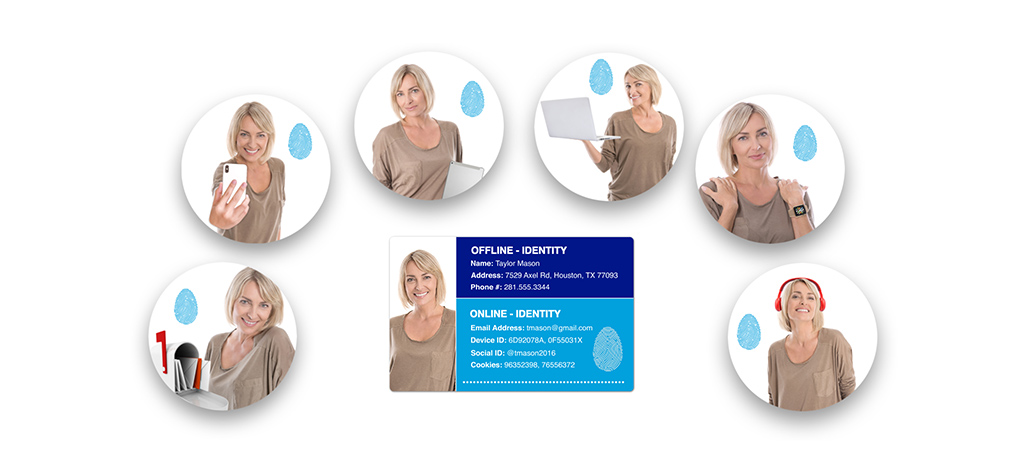 That's where Identity Resolution — powered by Liveramp — comes in. In 2015, blu finally found the right technology partner that allowed us to focus on what really matters: 1-1 people-based access to consumers.
Online Identity Resolution is the process of connecting hundreds of identifiers from different channels, platforms, and devices in near real-time. Now, marketers, technology platforms, data owners, and publishers can tie all of these identifiers back to the same person in a deterministic, privacy-safe way to enable people-based targeting, measurement, and personalization.1
Stop guessing and start K
now

ing with blu.

In an ever changing marketing landscape, one thing remains paramount: being able to identify costumers is the most basic requirement for direct marketing. Customer-obsessed marketers need to leverage the power of online identity resolution starting now. Marketing spend needs to be stewarded at the highest levels, because not knowing who you are marketing to is no longer an option.

It's time to stop guessing and start KNOWING. 



At blu, we give marketers the power to find (and get to know) the right people in the right places at the right times. We provide the vision and insight you need to identify your best customers; to target the people most likely to be impacted; and then focus on the best ways to be seen, heard, and understood by the people who matter most — YOUR CUSTOMERS.
IS YOUR MARKETING INVESTMENT PAYING OFF? THE TIME TO DARE IS NOW.
Take 35 seconds to find out if you're maximizing ROI with your current marketing strategy. We will help you ensure your brand is prepared and ready to make the most of what's next or will cheer you on if you are confident in your current efforts.