Last week, we introduced you to John Wanamaker, the marketing pioneer who famously quoted,
"half the money I spend on advertising is wasted, the trouble is I don't know which half."
Go back and take a look if you missed it. You'll find four ways old John could have eliminated waste, kept better track and even optimized his marketing budgets.
This week, we're diving into the details of tracking your campaigns and the importance of being able to review ad effectiveness on a regular basis. Your budget dollars are precious and shouldn't be spent on content that isn't performing or adding to your ROI.
Tracking omni-channel campaigns can be time consuming. Depending on the number of channels you run — not to mention the multiple content triggers involved — tracking can be an overwhelming process. Even the most savvy marketers spend more than 3.5 hours a week on data collection, tracking and reports.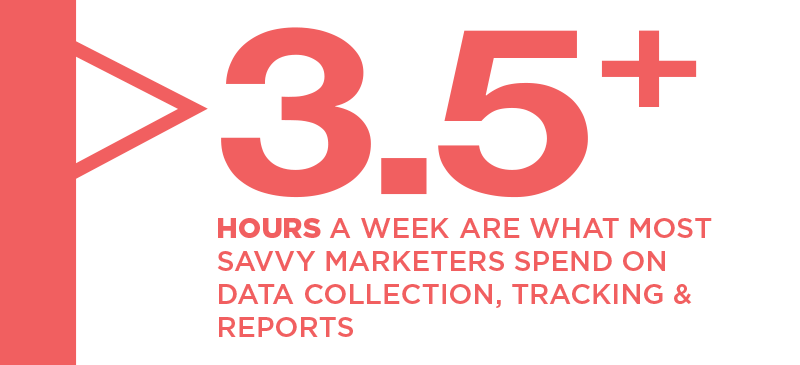 What if you could cut that time in half?
Online Tracking

In today's technology-based world, marketers have access to remarkable advances that John Wanamaker couldn't have even dream of. One of those advances can be experienced through data aggregation tools. I know that doesn't sound all that exciting, but being able to pull data from multiple ad placement platforms and organize them into one reporting dashboard is a major time (and money) saver.
Once data connections are made and initial reports have been built, the heavy lifting is all but done. Reports can then be pulled collectively as needed and reviewed at a moment's notice. These reports help tell the full story about what content trigger(s) or creative variations are performing best across different platforms. Understanding this is crucial, because it will help shape future creative and divert spend to focus on what's truly working.
Offline Tracking
Even though digital spend has increased year-to-year over the last decade, marketers simply can't ignore offline marketing in a comprehensive omni-channel approach. From a personalization and conversion standpoint, direct mail is still king and shouldn't be overlooked. With today's direct mail, marketers can attribute a sales conversion that is tied to transactional data ( which also ties back to a pinpointed data set at the household level).
Tracking online and offline data didn't exist back in Wanamaker's day. Too bad for him, because it would have made all the difference. Being able to determine what is and isn't performing is one thing; but being able to reallocate budgets in a matter of hours (not days, weeks, or months) would have quite literally saved poor John millions of dollars.
Comprehensive and Visual
Even with all of the tracking advancements that are so readily available these days, marketers still need to consider the time and effort it takes to analyze all of their data. Some folks aren't distracted or intimidated by raw numbers, and how nice for you; but others of us need to see the data in new and different ways — a visual dashboard with charts, graphs, and corresponding creative. Well, good news, picture-people. The future is now.
Tools for Data Visualization
But what if you could track online and offline data and attribute one-for-one to a targeted audience?
Mind blown yet?
Next post we'll discuss how to determine the most brand receptive individuals and building audiences to target both online and offline.
It's too late for Wanamaker, but you've still got time!
WanaChat?
Blu can help you track your total marketing spend to the very cent through our 24/7 web portal. From creating content that engages emotionally and rationally with individuals, to posting content on channels that engages your most potentially profitable customers, to tracking that customer to a sale or transaction. We can show you where every last nickel of your ad budget is sparking results. Learn more about our Brandwashing process.